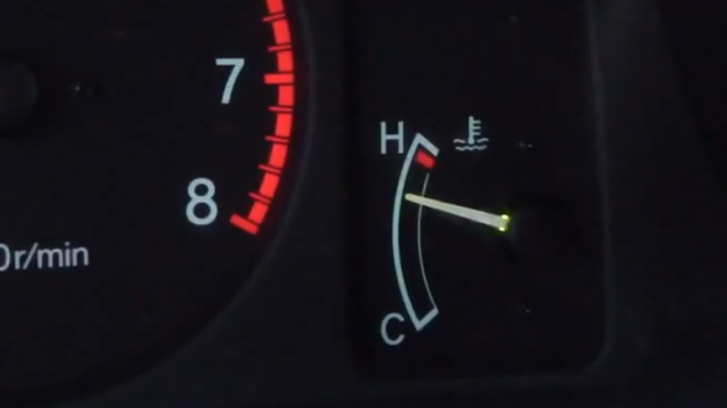 HOW TO SEE IF THE ENGINE TEMPERATURE IS OVERHEATING?
many of you have been wondering how to take note of the vehicle engine temperature, especially for those new drivers. Above picture is an example of the dashboard prompting you that the engine temperature is rising.
Some vehicle has no engine temperature gauge so it will only appear the sign at the first photo.
If you notice the aircon is blowing hot air, this is one of the sign that the engine may be overheat. There is a difference between aircon  releasing hot air and normal air. Aircon releasing normal air and is not cold can be just aircon gas is empty but if aircon is releasing hot air, check your dashboard immediately to see if the sign is out or is the engine temperature gauge is increasing.
WHAT SHOULD I DO IF THE ENGINE TEMPERATURE IS HEATING UP?
Stop the car at the nearest road shoulder and make sure you are not obstructing the traffic. Shut off the engine, pop up the bonnet and wait for the vehicle engine to cool down. DO NOT REFILL ANY ENGINE COOLANT/WATER AT THIS MOMENT.  Engine coolant/water can only be refill after the engine temperature cools down which is around 2-2.5 hours.
If your rental car engine is heating up, Call us up immediately. We will go down to assist you as soon as possible.  IF you are on an expressway, usually emas tow truck will be there to tow the vehicle to the nearest carpark for you. Do inform us as well the location whereby the vehicle will be towed to.
AKA car rental Singapore will replace you with another vehicle but if all our vehicles are rented out, we will refund you the rental fee prorated. We hope our dearest customers can understand that some wear and tear are unavoidable. We did try our best to maintain the vehicle but some wear and tear are not noticeable. It can be due to the fan is not working, leaking of coolant, belt snap and many other causes.  Nevertheless, with the help of our customers feedback, we will be able to maintain it better! 🙂
TEAM AKA Car Rental Singapore